Ok so I am going to try to do 5QF every Friday. I have only done one since I started my blog... so I need to do some more. I have Amber (Lisa's daughter) over and Michael just got home so today has been a really good Friday! Now the questions!!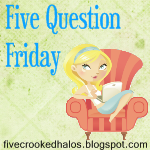 1.
If you had to choose, which would you prefer to spend money on... landscape or a pool?
I would definitely prefer a pool with this nice weather we have been having! I would like a nice in-ground pool with the deep end to be 12ft! On our anniversary Michael was teaching me to swim, but now that we aren't around a pool I can't practice!
2.
Death penalty, yay or nay?
It would, of course, depend on the situation, but yay. Sometime I wish our judicial system could revert back to the 1800s when you killed someone you were hanged, but then they killed allot of innocent people. So there again, it would definitely depend on the situation.
3.
What's the worse thing your kid has gotten into when you turned your back/blogged/showered/blinked.
Well since Michael hasn't let me have a kid yet, I wouldn't know, but I am dreading the day when our future kids to dreaded things!!
4.
How often do you REALLY go to the dentist?
I used to go every 6 months when I was on my parents insurance, but now since we got married I have only been to the dentist once... I actually don't mind going to the dentist. It's almost relaxing for me. The only thing I dread about dentists are shots, but even those aren't too bad.
5.
What is your favorite animal (doesn't have to be pet-type animal)?
Hmm that one is a hard question for me. I love all sorts of animals (ask anyone and I've had almost every type!), but I think my favorite is a toss up between horses and dogs. I currently don't own a horse, but back on my parents ranch we at 8 at one time. Riding in the mountains is the most awesome thing to do! Dogs are always there for you and aren't critical of anything. Training dogs is also a hobby of mine, and that's another fun thing about dogs; yes you can teach old dogs new tricks!!